Refinance - Cash Out Refinance
If you are looking to lower your monthly payments, consolidate your bills, need extra funds to renovate a room in your home then now is the time to refinance your home mortgage or do a cash out refinance.
There are actually several reasons why people want to take a refinance their mortgage. This is also why the refinance mortgage rate calculators are important.
Using Refinance mortgage rate calculators help homeowners determine the savings they can achieve on their chosen loan type.
Refinance mortgage rate calculators also aid you in finding out how much your new monthly payment for your refinancing loan or cash out refinance loan.
Get a Customized Home Loan Rate Quote!
Fun Cash out Refinance and Mortgage Refinance Mortgage Rate Calculator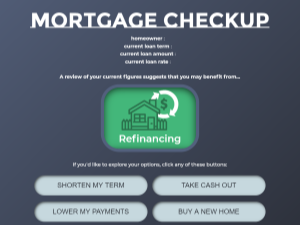 The interactive Internet refinance mortgage rate calculator show you the new monthly payment that you need to make for your home mortgage. Aside from that, these refinance mortgage rate calculators also show you the total interest rate that will result by your new loan.
If you're more concerned on how much you will save with your new loan, these refinance mortgage rate calculators will also help you look at the various calculations that can help you make an informed decision.
 The refinance mortgage rate calculator above will ask you for your current loan information. For instance, on the refinance mortgage rate calculator, a field labeled current and new interest rate. This will help you determine how the rate will affect your new loan and payment. There are 19 different mortgage calculators built in. Feel free to use the dropdown and choose a mortgage calculator to help better inform you as the homeowner.
If you received your rate quote and you are ready to refinance or for a cash out refinance,
Quick Home Loan Quote!  then go to the link below create an account and we can help you get your new home loan funded with the best home loan rates and terms available today.
The benefits of refinancing today are a lower rate a shorter term to payoff your home, cash out to renovate your home or payoff your bills.  If over 62 a HECM or Home Equity Conversion Mortgage may be for you.  Feel free to inquire about today's Reverse Mortgage programs.
Expert Home Loan and Mortgage Advice
Best Cities For Real Estate Investing In Kentucky Home   Kentucky is emerging as a lucrative destination for real estate investors seeking better price appreciation
Read More »